Help us fill in the story!
Key Events
Edit
Cypress pulls out his medicinal herbs and passes it around
Defeated 6 Flying Snakes
Encountered another group of flying snakes, defeating 3 and the whole party dropping unconcious.
Pain, Kraolin and Esme survived the Death Saving throws. Cypress succumbed to the poison.
Treasure
Edit
None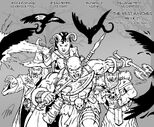 Experience
Edit
Total party experience: 225 experience points. Divided by three: 75 experience points per player.
225 xp for killing nine flying snakes.
Ellohime's debut in the West Marches with his druid Cypress.
Both Lak'Tuk "Pain" and Kraolin Frall rolled a natural 20 on their Death Saving throws, denying the TPK.
Cypress rolled 4 fails in a row, two of them rolled with Inspiration, passing on to the afterlife.
Pages in category "Episode 25"
The following 7 pages are in this category, out of 7 total.
Ad blocker interference detected!
Wikia is a free-to-use site that makes money from advertising. We have a modified experience for viewers using ad blockers

Wikia is not accessible if you've made further modifications. Remove the custom ad blocker rule(s) and the page will load as expected.