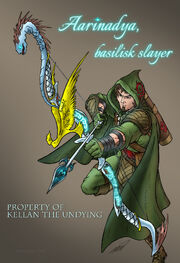 Aarinadya, the basilisk slayer, was discovered by Kellan Wildlight on August 9, 677. It found within an elven woman's tomb during episode 17.
Aarinadya is fine heartwood bow with 3 extra strings and 14 arrows. Along the bow are elven runes naming it Aarinadya.
Properties
Edit
A magical bow, that counts as Magical for the purposes of resistances and vulnerabilities.
Aarinadya quickens the bearer's senses when a Monstrosity is within bowshot (600'), increasing Speed by 5 and providing advantage on Perception and Athletics checks.
The weapon has 6 charges. The bearer can expend 3 charges to grant the next attack against a Monstrosity advantage. If you expend the last charge, roll 1d20. On a roll of 1, the weapon disintegrates and is destroyed.
Magical bow (advantage* vs Monstrosity)
Monstrosity sense: +5 Speed, Advantage on Perception and Athletics
Advantage vs Monstrosity: expend 3 charges for one attack

Charges: 6
On Depletion: 1 in d20 chance of weapon disintegration
Ad blocker interference detected!
Wikia is a free-to-use site that makes money from advertising. We have a modified experience for viewers using ad blockers

Wikia is not accessible if you've made further modifications. Remove the custom ad blocker rule(s) and the page will load as expected.